It is cocoa harvesting time at Crescent Moon Cabins! Although we have only two cocoa trees on the property they bear twice a year and plenty. We are major consumers of cocoa through cocoa tea, cocoa chipotle ice cream, and cocoa espresso torte. There is a lot of talk lately about the health benefits of cocoa's flavonoids acting as antioxidants and blood pressure regulators but all studies will qualify that the closer to the source the better.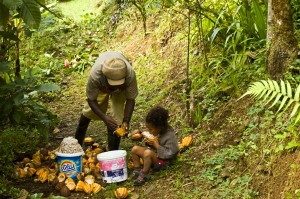 Our process starts with picking the pods from the tree. This is fun to watch as David bounces atop the rubbery boughs of the tree. He sends, his assistants, me and Leo, the pods and we catch (most) of them. Then we use our own preferred methods to open the red, orange and yellow, football shaped pods. I like to knock them on a sharp stone and David taps them three times with his cutlass like a magic wand and, voila, they open and expose creamy covered deep purple seeds. Next we scoop out the pulp and seeds which leaves our hands softened and smooth and collect them in a pail. We all can be seen sucking on a few seeds as we go along. The pulp is a special sweet yet tart taste, a sensation one wouldn't relate to cocoa unless you have been a harvester.
The cupped pods are given back to the tree's roots as fodder for the next generation and the seeds are spread out on a long sheet of metal in the greenhouse to dry and slightly ferment.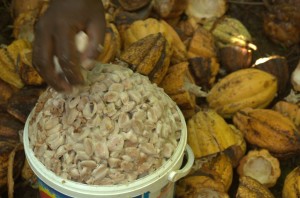 Once dried to the supervisor's satisfaction it is fire time. David stirs the seeds in a big pot over the open flames until they have been well cooked and the outer shell cracks (similar to coffee). They are pealed, once again, of the last shell layer. We then take turns grinding the seeds through the hand mill, transforming them into powder. Next is packing the grains into form. This takes an intuitive amount of pressure between two hands (David and Jolo have an innate sense of perfection!) as you use the natural oils to bind it all into the shape of a log or a ball. They are ready to grate as unsweetened baker's chocolate into cake recipes.
The way I make cocoa tea:

Boil 6 cups of water, grate into it a thick cocoa stick.
Add one big piece of cinnamon bark and a bay leaf
Simmer until all cocoa is melted and cinnamon and bay drawn
(a cured vanilla pod is also a decadent addition!)
Sweeten to taste
Add cow, goat, or coconut milk to desired creaminess

Sip, savor, and celebrate!